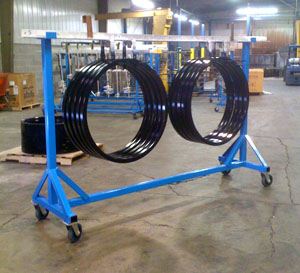 Our services division is located in Northern Cincinnati. We offer Anodizing, Aqueous Cleaning, Black Oxide, Passivation, and custom packaging of processed parts.
Anodizing – Type 2, high production capability. Industries served: Automotive, Defense, Food Service. We process parts up to 8 feet in length, and provide MIL and AMS certifications upon request. Available colors: Black, Gold, Tan, Blue.
Passivation: We offer in house or onsite Passivation services. Industries served: Food and Drug, Defense.
Aqueous Cleaning – High volume degreasing of parts with packaging capabilities. We also offer on-site equipment and plant cleaning.

Black oxide - tanks are large and can accommodate parts up to 10 feet in length and up to 8000 pounds. We provide MIL and AMS certifications on request.
Quality Finish Guaranteed
Certifications
12' Black Oxide Tank
Rack & Barrel Processing
Tumble Barrel Finishing
Vibratory Finishing
Parts Washing
Same Day Service Available
Free Pickup and Delivery
Our Mission Statement
Cincinnati Black Oxide is committed to being the recognized leader in providing high quality black oxide and job shop services; meeting or exceeding our customers needs. We will achieve our mission through focused efforts on continuous process improvement, material handling and quality control along with our dedication to the people we serve.