Cincinnati Black Oxide's quality and 24 hour turn around can't be beat.
Our job shop features various size vibratory finishing machines ranging from 3 cubic feet to 60 cubic feet, making no job too large or too small. Many of our systems are designed with finishing machines feeding directly into cob meal dryers for quality and efficiency.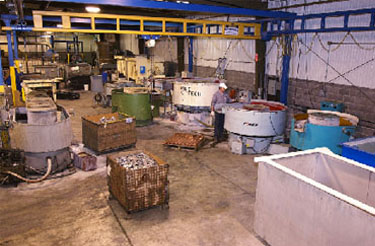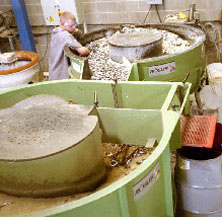 We also offer tumble barrel finishing with barrel sizes ranging from 3 cubic feet to 50 cubic foot compartments.
Cincinnati Black Oxide offers processes utilizing plastic, ceramic, and steel medias and our own VBS Compounds, allowing us to provide our customers with their desired finish.
Whether your needs call for deburring, finishing, edge-break, cleaning, polishing or drying, Cincinnati Black Oxide can meet your requirements, and offer competitive pricing while surpassing the delivery offered by most job shops.