The Black Oxide process causes virtually no dimensional change to the part, which does occur with painting or zinc plating; making black oxide appealing in instances where a coating is required with no "build-up" of material. Black oxide penetrates the steel 5-10 thousandths and adds to the part thickness by only 5-10 thousandths providing a hardness of 5 on the Mohes scale.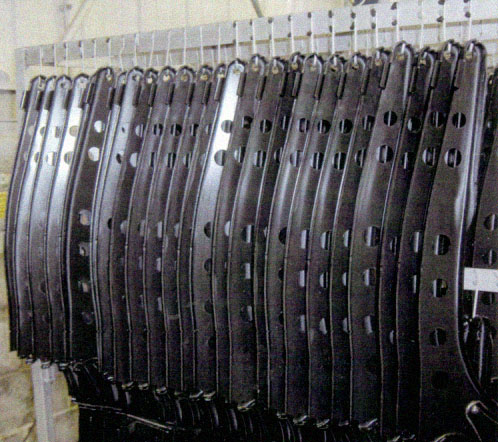 System Specs
All Certifications
Free Pickup and Delivery
Same Day Turnaround
Black Oxide Brass
Black Oxide Copper
Black Oxide Stainless Steel
Quality Fresh Guaranteed
Rack and Barrel Processing
State of the Art Equipment
Cincinnati Black Oxide utilizes a hot black solution, with our tank operational at approximately 285ºF. Our Black Oxide is heated via a 1.2 million BTU burner system and is temperature controlled automatically. Utilization of our own chemistry in the tank gives us total control over the quality of our plating. Our VBS Black Tank chemical process produces a fine grained uniform surface. Contamination of our black tank is controlled by skimming of suspended oxides regularly. This contributes to our consistent high quality finish.
Cincinnati Black Oxide's process and the black oxide formed by our salts meets or exceeds Military, Aeronautical, and Automotive Specifications including but not limited to:
Mil-C-13024 Class I/Mil-DTL-13924
AMS 2485H
Proctor & Gamble Spec GCS 14
Chrysler Corp PS-1129
Ford ESF-M6P3-A
General Motors GM-4347-M
Toyota TSH76036
General Electric Aircraft Engine 70-43-12
Certifications are available upon purchase order request.
Pickle & Oil
Our pickle and oil process is utilized by customers for pre-plate, pre-powder coat finishes. This process removes heat treat scale, rust and welding flash and/or burn.
Our maximum turn around time of 24 hours allows us to assist our customers in meeting or exceeding their production schedules. Same day service is available upon request at no additional charge.