Finishing Technology's Anodizing Capabilities
Type 2: Sulfuric Acid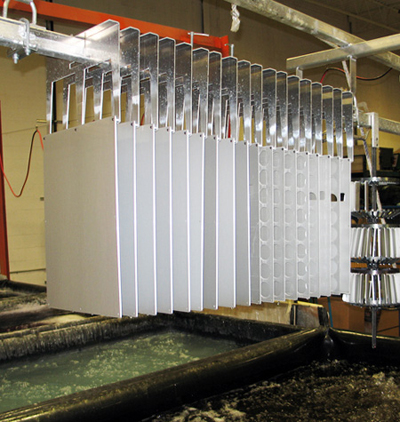 Type 2 Anodizing: Sulfuric Acid
Also called architectural anodizing, Type 2 Anodizing is an electrochemical process that creates an aluminum oxide film by rapidly controlling the oxidation of an aluminum surface. The resulting aluminum oxide film is electrically non-conductive and porous to provide excellent corrosion protection, improved wear characteristics, and is a superior base coat for additional coating applications. The surface appearance is commonly clear or dyed for cosmetic applications. The major benefit of Type II Anodizing is the ability to add a myriad of decorative colors and dyes.
For aerospace applications, Finishing Technology offers Type II Anodizing and includes these capabilities:
Typical Formed Thickness is 0.00005 to 0.0002 in.
Rack Anodizing
Available Masking for Selective Surface Anodizing
Salt Spray Corrosion Test (minimum 336 hours of salt spray resistance)
Thickness Analysis
Properties of Type 2 Anodizing
Corrosion Resistance: Resistant to salt-water and atmospheric attacks.
Decorative Appearance: Luster can range from dull to high depending on the base metal. The brighter the base metal, the brighter the anodize.
Electrical Insulation: Aluminum oxide is a dielectric.
Color Flexibility: Wide spectrum of colors can be obtained.
Paint Adhesion: Offers a chemically active surface for most paint systems.
Adhesive Bonding: Improves bond strength and durability.
Emissivity: Films with a thickness >0.00032 in. increases the emissivity of the aluminum.