The Anodizing Process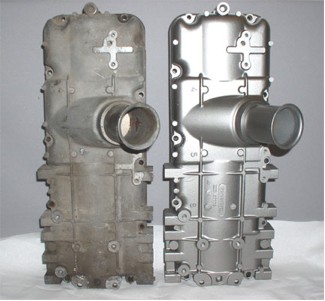 Preceding the anodization process, wrought alloys are cleaned in either a hot soak cleaner or in a solvent bath and may be etched in sodium hydroxide (normally with added sodium gluconate), ammonium bifluoride or brightened in a mix of acids.
The anodized aluminum layer is grown by passing a direct current through an electrolytic solution, with the aluminum object serving as the anode (positive electrode). The current releases hydrogen at the cathode (negative electrode) and oxygen at the surface of the aluminum anode, creating a build-up of aluminum oxide. The voltage required by various solutions may range from 1 to 300 V DC, although most fall in the range of 15 to 21 V. Higher voltages are typically required for thicker coatings formed in the sulfuric acid and organic acid.
Conditions such as electrolytic concentration, acidity, solution temperature and current must be controlled to allow the formation of a consistent oxide layer. Harder, thicker films tend to be produced by more dilute solutions at lower temperatures with higher voltages and currents. The film thickness can range from under 0.5 micrometers for bright decorative work up to 150 micrometers for architectural applications.